How it works
MyChoice identifies the elements in the marketing mix that have the greatest impact on purchase intent.

MyChoice is a 'Choice modelling' tool that uses conjoint analysis to evaluate the impact on consumer choice of different branding, pricing, features, benefits, promotional offers, etc.

An everyday tool for marketers
Faster
Data is delivered much faster and less expensively thanks to unique backend techniques and algorithms. A typical MyChoice study can be conducted and delivered within 2 weeks.
Affordable
A typical MyChoice study can be conducted for less than $20,000. Normal research techniques can take ten times that amount of money!
Actionable Insights
MyChoice provides deep insights which can be immediately implemented before the marketplace situation changes. New studies can be quickly commissioned and used to meet any changing marketing need.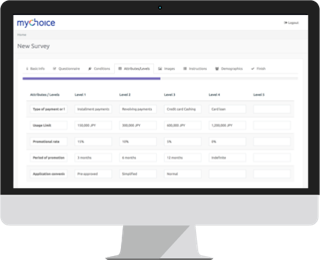 Step 1
Clients create questionnaire & choice matrix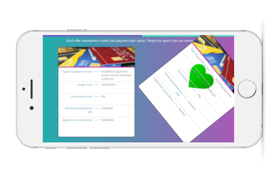 Step 2
Consumers complete questionnaire & choice questions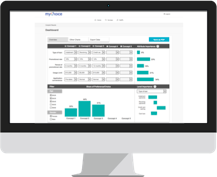 Step 3
Clients view results in interactive dashboard
Frequently Asked Questions
How to get started?
Just click the Get Started button on the Home Page and follow the instructions. There is no cost or obligation until you commission your survey.
How do I get the results ?
You will have a password that will enable you to access your interactive dashboard. You can then change variables and see the impact on your share of mind. This will let you find the key features that drive consumer choice, and to develop the optimum marketing mix for your brand.
How do I pay and when?
You can establish a normal billing arrangement by simply agreeing to the cost quotation and T&A, and providing a Purchase Order for the work. Or you can pay via a card or Paypal.
How long will the research take to complete ?
The actual fieldwork should take no more than one week. Results will be available on your dashboard no later than week 2.
What happens if MyChoice cannot deliver the work, or makes an error.
MyChoice promises to conduct the work and deliver the results as agreed, or there will be no charge.
E: hello@mychoicesurveys.com
A : 26 Duxton Road, Singapore 089490

We usually reply to any question or request for information within 24 hours.